STANZA 1
What a friend we have in Jesus,
All our sins and griefs to bear!
What a privilege to carry
Everything to God in prayer!
Oh, what peace we often forfeit,
Oh, what needless pain we bear,
All because we do not carry
Everything to God in prayer!
STANZA 2
Have we trials and temptations?
Is there trouble anywhere?
We should never be discouraged—
Take it to the Lord in prayer.
Can we find a friend so faithful,
Who will all our sorrows share?
Jesus knows our every weakness;
Take it to the Lord in prayer.
STANZA 3
Are we weak and heavy-laden,
Cumbered with a load of care?
Precious Savior, still our refuge—
Take it to the Lord in prayer.
Do thy friends despise, forsake thee?
Take it to the Lord in prayer!
In His arms He'll take and shield thee,
Thou wilt find a solace there.
STANZA 4
Blessed Savior, Thou hast promised
Thou wilt all our burdens bear;
May we ever, Lord, be bringing
All to Thee in earnest prayer.
Soon in glory bright, unclouded,
There will be no need for prayer—
Rapture, praise, and endless worship
Will be our sweet portion there.
Words and Music by Joseph M. Scriven, 1855 © Public Domain
Greater love has no one than this, that he lay down his life for his friends. You are my friends if you do what I command. I no longer call you servants, because a servant does not know his master's business. Instead, I have called you friends, for everything that I learned from my Father I have made known to you. John 15:13-15
A friend loveth at all times, and a brother is born for adversity. Proverbs 17:17
Do not be anxious about anything, but in everything, by prayer and petition, with thanksgiving, present your requests to God. And the peace of God, which transcends all understanding, will guard your hearts and your minds in Christ Jesus. Philippians 4:6-7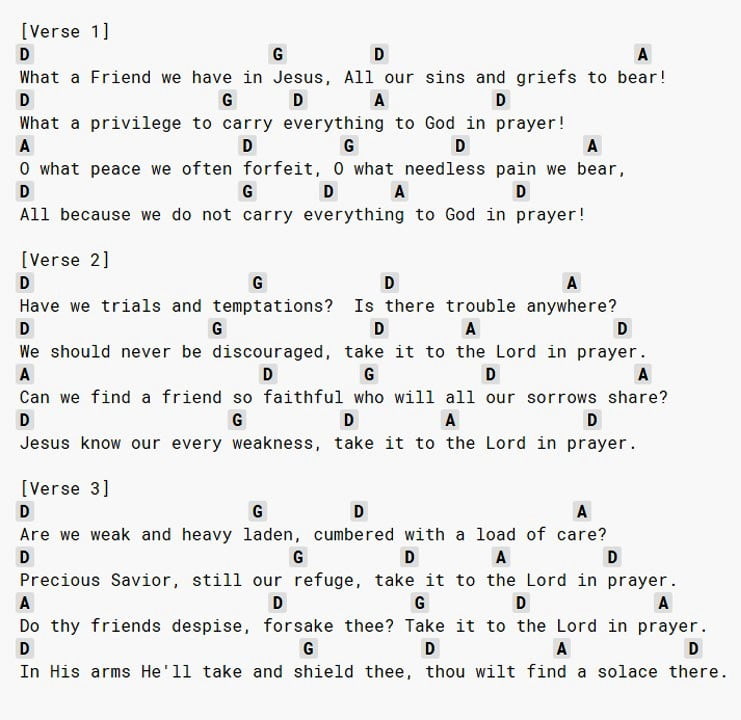 PPTX Worship Toolkit
Worship Planning and Preparation Guide (PDF Download)
About Amen Vault Worship Tools
ALL songs on our Store are 100% editable PowerPoint slides with Slide Master options where you can edit the main layout. You can add your own images as part of background layout options. You may also add your church logo.
Fonts are beautifully selected, clean, large, simple and readable. Customized for Easy Live Presentation in Modern 16:9 aspect ratio. High quality royalty free visual images. All songs and sermon creator PowerPoints and worship stills are included in your Amen Vault subscription.
Your free premium contents are in the download box below. Login to download. Lifetime downloads access and updates by becoming an Amen Vault Worship Tools subscriber.
Subscribe to Amen Vault and download everything here.
Share this song. Sharing our links through your social media will boost our traffic and will help more churches and worship leaders like you. An appreciation or commendation comment below is highly appreciated. Follow us on Facebook and YouTube.