VERSE 1
In this time of desperation
When all we know is doubt and fear
There is only one foundation
We believe we believe
VERSE 2
In this broken generation
When all is dark You help us see
There is only one salvation
We believe we believe
CHORUS
We believe in God the Father
We believe in Jesus Christ
We believe in the Holy Spirit
And He's given us new life
We believe in the crucifixion
We believe that He conquered death
We believe in the resurrection
And He's coming back again
We believe
VERSE 3
So let our faith be more than anthems
Greater than the songs we sing
And in our weakness and temptations
We believe we believe
CHORUS
We believe in God the Father
We believe in Jesus Christ
We believe in the Holy Spirit
And He's given us new life
We believe in the crucifixion
We believe that He conquered death
We believe in the resurrection
And He's coming back again
BRIDGE
Let the lost be found
And the dead be raised
In the here and now let love invade
Let the Church live loud our God will say
We believe we believe
And the gates of Hell will not prevail
For the power of God has torn the veil
Now we know Your love will never fail
We believe we believe
CHORUS
We believe in God the Father
We believe in Jesus Christ
We believe in the Holy Spirit
And He's given us new life
We believe in the crucifixion
We believe that He conquered death
We believe in the resurrection
And He's coming back
OUTRO
He's coming back again
He's coming back again
VAMP
We believe
We Believe (Newsboys) Words and Music by Matthew Hooper, Richie Fike, Travis Ryan ©2014 UMG (on behalf of Sparrow (SPR)); LatinAutor – UMPG, Adorando Publishing, ASCAP, Capitol CMG Publishing
This Jesus, delivered up according to the definite plan and foreknowledge of God, you crucified and killed by the hands of lawless men. God raised him up, loosing the pangs of death, because it was not possible for him to be held by it. Acts 2:23-24
According to the grace of God given to me, like a skilled master builder I laid a foundation, and someone else is building upon it. Let each one take care how he builds upon it. For no one can lay a foundation other than that which is laid, which is Jesus Christ. 1 Corinthians 3:10-11
Grace, mercy, and peace will be with us, from God the Father and from Jesus Christ the Father's Son, in truth and love. 2 John 1:3
Therefore do not be ashamed of the testimony about our Lord, nor of me his prisoner, but share in suffering for the gospel by the power of God, who saved us and called us to a holy calling, not because of our works but because of his own purpose and grace, which he gave us in Christ Jesus before the ages began, and which now has been manifested through the appearing of our Savior Christ Jesus, who abolished death and brought life and immortality to light through the gospel. 2 Timothy 1:8-10
But when the goodness and loving kindness of God our Savior appeared, he saved us, not because of works done by us in righteousness, but according to his own mercy, by the washing of regeneration and renewal of the Holy Spirit, whom he poured out on us richly through Jesus Christ our Savior, so that being justified by his grace we might become heirs according to the hope of eternal life. Titus 3:4-7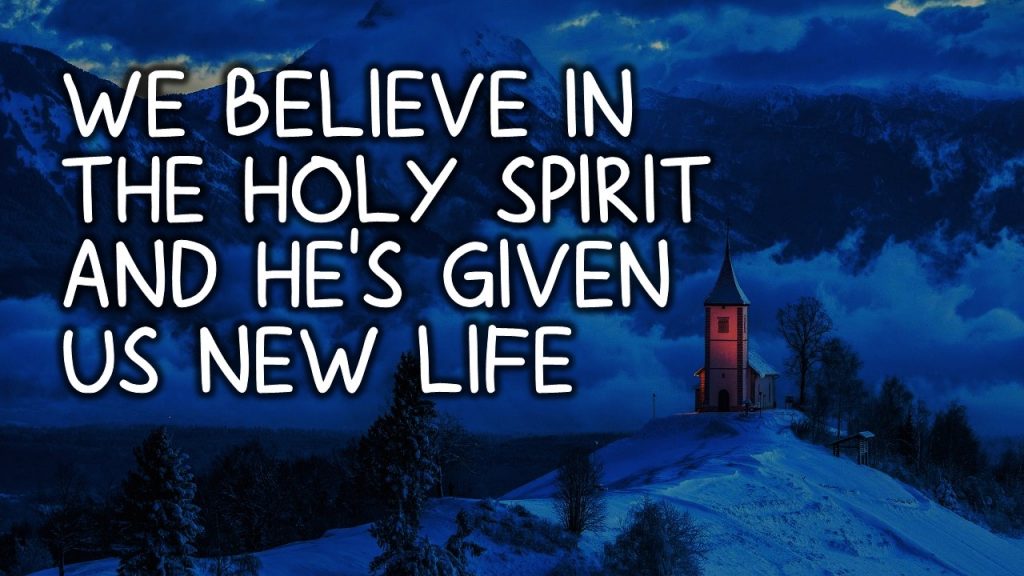 Devotional from the composer
New believers start their new life, not alone, but part of a community of faith built on the foundation of good news—how God the Creator has shown His love in sending the Son and then pouring out the Holy Spirit.  That community, the Church, was created to be so filled with the Spirit that "the gates of Hades will not overcome it." (Mt 16:18, NIV)  As part of that living, breathing organism, Christians stand together to be an invading force of love against the darkness, of power against the enemy of our souls, and of life overcoming death.
Our faith is not so much "me" as it is "we." We believe—we know—that God exists. He has revealed Himself to us in the person of Jesus Christ and in His life, death, resurrection and ascension. The power of the Holy Spirit shapes us together as "living stones" (1 Peter 2:5) into a community that can stand the onslaught of enemy tactics—desperation, doubt, fear, brokenness, weakness, and temptation. Together, we believe we can defeat these tactics and bring God's redemption as we walk in His power and love.
That is the Christian life. That is the church of God. ~Travis Ryan @www.weareworship.com
PPTX Worship Toolkit
Worship Planning and Preparation Guide (PDF Download)
About Amen Vault Worship Tools
ALL songs on our Store are 100% editable PowerPoint slides with Slide Master options where you can edit the main layout. You can add your own images as part of background layout options. You may also add your church logo.
Fonts are beautifully selected, clean, large, simple and readable. Customized for Easy Live Presentation in Modern 16:9 aspect ratio. High quality royalty free visual images. All songs and sermon creator PowerPoints and worship stills are included in your Amen Vault subscription.
Your free premium contents are in the download box below. Login to download. Lifetime downloads access and updates by becoming an Amen Vault Worship Tools subscriber.
Subscribe to Amen Vault and download everything here.
Share this song. Sharing our links through your social media will boost our traffic and will help more churches and worship leaders like you. An appreciation or commendation comment below is highly appreciated. Follow us on Facebook and YouTube.