VERSE 1
Mountains are still being moved
Strongholds are still being loosed
God we believe it
Yes we can see that
Wonders are still what You do
CHORUS
We are here for You
Come and do what You do
We are here for You
Come and do what You do
Set our hearts on You
Come and do what You do
'Cause we need a move
We need a move
VERSE 2
Bodies are still being raised
Giants are still being slayed
God we believe it
And yes we can see that
Wonders are still what You do
BRIDGE
Miracles happen when You move
Healing is coming in this room
Miracles happen when You move
Heaven is coming
CHORUS 2
This is a move
This is a move
We are here for You
Come and do what You do
We are here for You
Come and do what You do
We set our hearts on You
Come and do what You do
This is a move
This is a move
This is a move
This is a move
Words and Music by Brandon Lake / Nate Moore / Tasha Cobbs Leonard / Tony Brown © 2019 Bethel Music
This is a Move by Bethel Music is about God's power is still at work in the midst of His people. The following verses are related Bible passages to aid in conveying the message of the song This is a Move.
With man this is impossible, but with God all things are possible Matthew 19:26
He is the one you praise; he is your God, who performed for you those great and awesome wonders you saw with your own eyes Deuteronomy 10:21
Now to him who is able to do immeasurably more than all we ask or imagine, according to his power that is at work within us, to him be glory in the church and in Christ Jesus throughout all generations, for ever and ever! Amen. Ephesians 3:20-21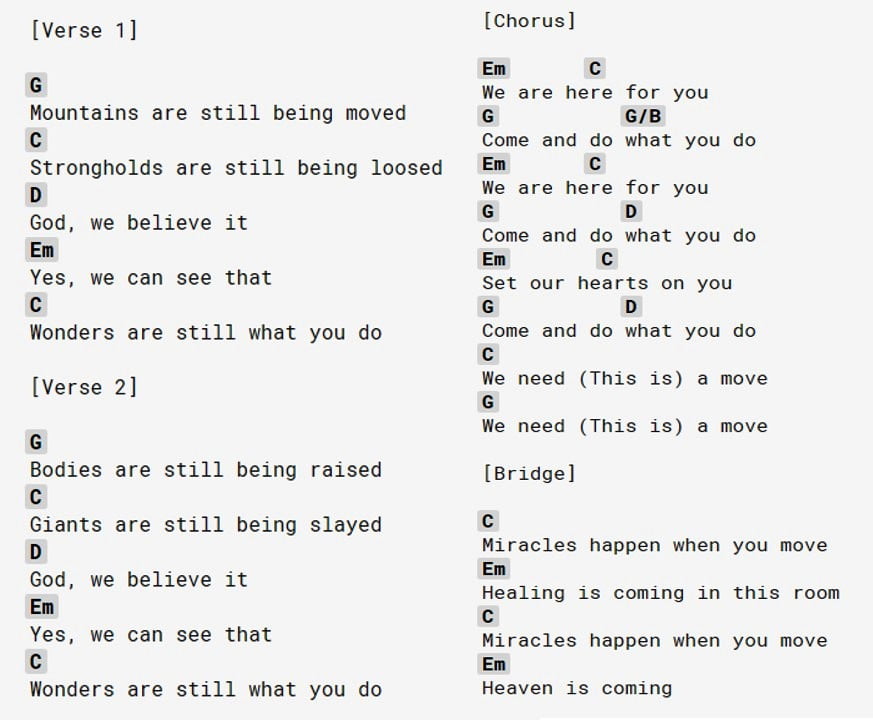 ALL songs on our Store are 100% editable PowerPoint slides with Slide Master options where you can edit the main layout, re-use and create new songs using the same format. No website watermark logo. You can add your own images as part of background layout options.
You may also add your church logo. Fonts are beautifully selected, clean, large, simple and readable. You may add effects, change fonts, and colors. Customized for Easy Live Presentation in Modern 16:9 aspect ratio. High Quality visual images.
Spread the WORD! Please SHARE this post. Follow us at Facebook and YouTube.