VERSE
For the praises of man
I will never ever stand
For the kingdoms of this world
I'll never give my heart away
Or shout my praise
My allegiance and devotion
My heart's desire and all emotion
Go to serve the Man
Who died upon that tree
CHORUS
Only a God like You
Could be worthy of my praise
And all my hope and faith
To only a King of all kings
Do I bow my knee and sing
Give my everything
Only a God like You
Could be worthy of my praise
And all my hope and faith
To only a King of all kings
Do I bow my knee and sing
Give my everything
To only my Maker
My Father my Savior
Redeemer Restorer
Rebuilder Rewarder
To only a God like You
Do I give my praise
BRIDGE
Only a God like You
Only a God like You
Only a God like you (x4)
Words and Music by Tommy Walker ©2000 Integrity Music from the Album: Never Gonna Stop, Date Released : December 19, 2000
O LORD, God of Israel, there is no God like you, in heaven above or on earth beneath, keeping covenant and showing steadfast love to your servants who walk before you with all their heart, who have kept with your servant David my father what you declared to him. You spoke with your mouth, and with your hand have fulfilled it this day. 1 Kings 8:23-24
There is none like You, O LORD; You are great, and great is Your name in might. Jeremiah 10:6
Remember the former things of old; for I am God, and there is no other; I am God, and there is none like me, declaring the end from the beginning and from ancient times things not yet done, saying, 'My counsel shall stand, and I will accomplish all my purpose,' Isaiah 46:9-10
There is no one holy like the LORD, Indeed, there is no one besides You, Nor is there any rock like our God. 1 Samuel 2:2
O LORD, there is none like You, nor is there any God besides You, according to all that we have heard with our ears. 1 Chronicles 17:20
18 There is no other god like you, O Lord; you forgive the sins of your people who have survived. You do not stay angry forever, but you take pleasure in showing us your constant love. 19 You will be merciful to us once again. You will trample our sins underfoot and send them to the bottom of the sea! 20 You will show your faithfulness and constant love to your people, the descendants of Abraham and of Jacob, as you promised our ancestors long ago. Micah 7:18-20
Story behind the song
Hosanna! Music celebrates its centennial release with the recording of "Never Gonna Stop", featuring gifted worship leader and songwriter Tommy Walker. "Never Gonna Stop" captures the energetic expressions of praise that have taken place at Christian Assembly in Los Angeles, CA where Tommy serves as worship leader. Featuring musicians like saxaphonist – Justo Almario, drummer Bob Wilson and bassist Jerry Watts, its music is an incredible union of passion and skill. The guiding bass, steady backbeat and rock guitar in songs like "Only A God Like You" and "He Saved Us To Show His Glory" will draw you to your feet and make you hungry for worship.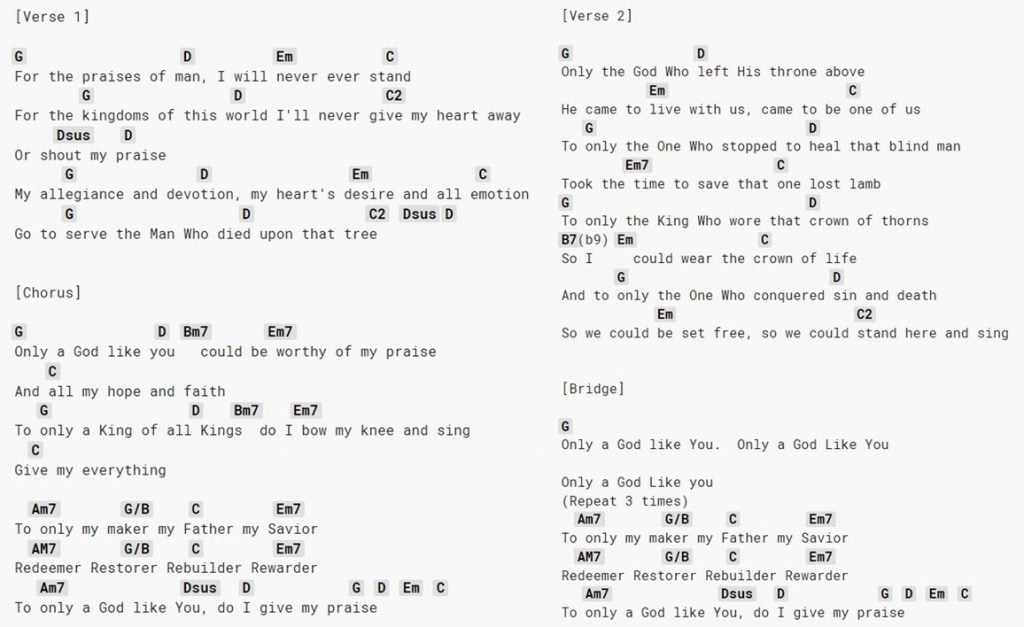 PPTX Worship Toolkit
Worship Planning and Preparation Guide (PDF Download)
About Amen Vault Worship Tools
ALL songs on our Store are 100% editable PowerPoint slides with Slide Master options where you can edit the main layout. You can add your own images as part of background layout options. You may also add your church logo.
Fonts are beautifully selected, clean, large, simple and readable. Customized for Easy Live Presentation in Modern 16:9 aspect ratio. High quality royalty free visual images. All songs and sermon creator PowerPoints and worship stills are included in your Amen Vault subscription.
Your free premium contents are in the download box below. Login to download. Lifetime downloads access and updates by becoming an Amen Vault Worship Tools subscriber.
Subscribe to Amen Vault and download everything here.
Share this song. Sharing our links through your social media will boost our traffic and will help more churches and worship leaders like you. An appreciation or commendation comment below is highly appreciated. Follow us on Facebook and YouTube.